Aurora Dentistry
Hollidge Family Dentistry  is an Aurora dentist that provides general, cosmetic and family dentistry for patients in Aurora, Newmarket and Richmond Hill. Take advantage of our ON-TIME Guarantee!

Our commitment to continuous study, research, and education allows us to choose our material and the method of treatment based on evidence-based dentistry and provide a safe and high standard of dental care to our patients. We offer:
Our experience is second to none. Patients are welcome to take off their shoes and slip on some booties that are conveniently located in our hall tree room. We have a refreshment centre, and comfortable seating with driftwood throughout to create a spa like setting in addition to a large play castle for children to let parents kick back and relax.
We employ an with an in depth decision making process that involves our patients using new technology and intraoral cameras. Our intention is to paint a clear picture for every patient, and involve them in the decision making process with an emphasis on their best oral health and cosmetic results. The idea is to work together to meet our patient's expectations. At the end of the appointment, you can enter a draw for the monthly gift basket we have on display at the front desk. Book your appointment today!
COMPREHENSIVE DENTAL CARE
our ON-Time Guarantee
Your time is valuable. The last thing you need is a wait at your family dentist! That's why we have an ON-TIME guarantee.  If you wait more than 15 minutes, you'll get a FREE Tim Hortons/Starbucks gift card.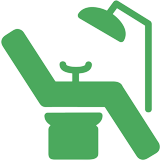 Specialized DENTAL SERVICES
We offer you and your family cosmetic dentistry and complete dental care. This includes Kid's Dental Care, Tooth Decay Prevention & Treatment, Cancer Patient Treatment, Cosmetic Dentistry & Invisalign and Emergency Dental Care.
EMERGENCY DENTISTRY
We understand that dental emergencies can be painful and even frightening. Trust our specially trained staff to help you with any sudden issues. This includes emergency root canals, fixing broken/chipped teeth, swelling, trauma and extreme tooth aches.
free for KIDS UNDER 3!
The first visit in our Aurora dental practice is free for children under three. The first visit includes a cavity risk assessment, an examination of your child's teeth, gums and occlusion. We will also discuss oral hygiene and diet.
GET IN TOUCH!
INQUIRIES & APPOINTMENTS
Monday-Tuesday: 10am - 8pm
Wednesday: 8:30am - 6:30pm
Thursday: 8am - 2pm
Friday: 9am - 4pm
Saturday: 9am - 3pm (Alternating)
Sunday: CLOSED
Please fill out the form below and a member of our staff will contact you to arrange your appointment.